Sunday Service at 10:00 am
May 26: Reflection during Sunday Service with guest speaker Amy Spark from Ecotrust Canada.
Get your tickets for our wonderful musical dinner theatre based on the works of Dr. Seuss. Tickets can be purchased on Eventbrite or bought at the office.
Saturday May 25, Dinner: 6:00 pm, Show Starts: 7:00 pm

Sunday May 26, Lunch: 12:00 noon, Show Starts: 1:00 pm
Climate Change and Calgary's Challenge
Ethical Dilemmas Workshop: May 22
Co-Presented by the Pembina Institute and Ecotrust Canada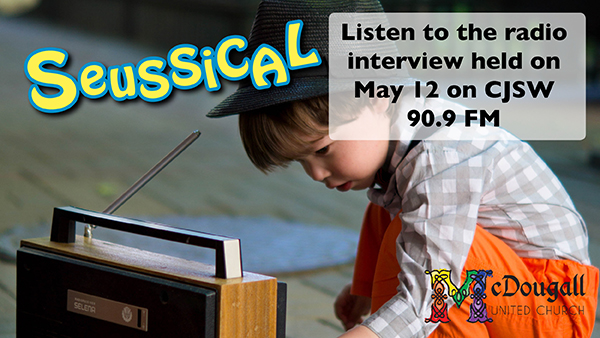 Seussical was on the radio!
Seussical was on the Radio! On Sunday May 12 an interview with Ricardo de Menezes-Horton the Elephant, Hannah Brunsdon-The Cat in the Hat and Director Joanne Anquist was held on CJSW!
CLICK HERE TO LISTEN TO THE INTERVIEW
SpeakEasy – Episode May 12, 2019
May 4 to June 9, 2019
Our Annual Ethical Dilemmas Series starts May 4th and will showcase 6 weeks of community leadership and change as we carry out our Easter message of resurrection and renewal.
Workshops will run Wednesday evenings at 7pm with a reflection during the following Sunday Service. Everyone is invited. Come learn from our guests and engage in the dialogue.

For more information, contact Tony Snow:
tony@mcdunited.com
Bargaining for Equality and Fairness
Ethical Dilemmas Workshop: May 29
Presented by Ricardo De Menezes, UFCW
Immigration Resettlement in Calgary
Ethical Dilemmas Workshop: JUNE 5
Presented by the Centre for Newcomers
Neighbour Day June 15, 2019
Save the date! Acadia's annual NEIGHBOUR DAY celebration, a co-production between the ACA and McDougall United, will be June 15th from 3:30-6:30 at McDougall United Church.