Sunday Service at 10:00 am
TOWN HALL MEETING
Plan to attend the Town Hall -June 23 after church
The June 23 Town Hall is your opportunity to discuss an exciting new proposal to help McDougall move forward. On a pilot basis, for the next 18 months, Council - now called the Leadership Council - wants to shift its focus to more strategic matters. (A new Operations committee will pay attention to the day to day issues). For more information see the report from the Governance Working Group by Council Chair Joanne Pritchard in this issue. In addition, as promised, the Town Hall Council will also provide a financial update and report on the results of the Halo survey which gives us a picture of McDougall's impact on our community. Hope to see you there.
Habitat for Humanity Fundraiser
Join us for lunch after church on Sunday, June 23 before the Town Hall meeting. We will have buns, cold meats, coleslaw and squares. All proceeds will go to Habitat for Humanity.
Construction during month of June
Construction to repair damage to the west wall of the church is to commence June 3 and is expected to continue for 4 weeks. There will continue to be access to the church through the main west doors and narrow access to the lower level. There will be tarps covering the open areas to limit the effects of weather. Some security fencing may restrict where some people usually enter. A Security Guard will be on duty 24/7. For concerns or further information contact Barrie Clayton or John Naylor.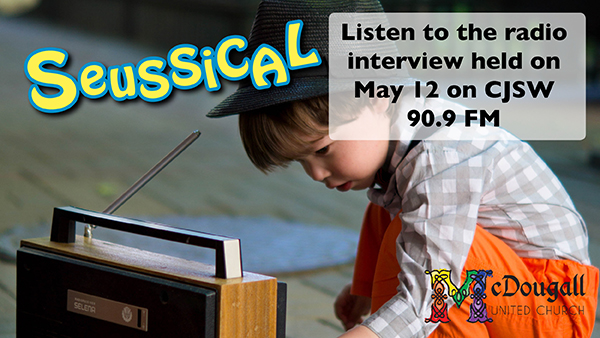 Seussical was on the radio!
Seussical was on the Radio! On Sunday May 12 an interview with Ricardo de Menezes-Horton the Elephant, Hannah Brunsdon-The Cat in the Hat and Director Joanne Anquist was held on CJSW!
CLICK HERE TO LISTEN TO THE INTERVIEW
SpeakEasy – Episode May 12, 2019
McDougall United and the community of Acadia celebrated Honouring Memories, Planting Dreams by planting a Heart Gar…

https://t.co/5d41gFCqsC

On Neighbour Day this Saturday we are planting a Heart Garden in memory of children lost to residential schools. Th…

https://t.co/SdPrI83FwD

NEIGHBOUR DAY in Acadia - June 15, 3:30-6:30. Fun community event for everyone! Hot dogs, chips, lemonade and ice c…

https://t.co/BuHfWpF5vA